Texas State University | San Marcos
SAVE THE DATE FOR OUR 2022 CONFERENCE!
August 7-9, 2022 | San Marcos, Texas
The Southern Family Farmers & Food System Conference returns to the campus of Texas State University in 2022, hosted by a partnership of Small Producers Initiative at Texas State University, Council for Healthy Food Systems, and Farm and Ranch Freedom Alliance.
In this fourth year of this partnership, our focus and mission remain the same … to present educational and networking opportunities for the producers, consumers, and supporters of sustainably grown, locally sourced foods.
Join us for dozens of multi-track sessions on Monday and Tuesday, Aug. 8-9, and for in-depth, half- or full-day workshops on Sunday, Aug. 7. Topics will cover livestock, crops, policies and regulations, business and marketing issues, and more.
If you're interested in being a sponsor or exhibitor for this event, please download our Information Packet or contact Conference@farmandranchfreedom.org.
---
Each year, this unique event focuses on the policies and regulations affecting our farms and our food as well as the latest developments in sustainable agriculture. Whether you are a farmer, consumer, chef, local foods business owner, or nonprofit advocate, you will find useful information and tools to help support the growth of the local and sustainable food movement.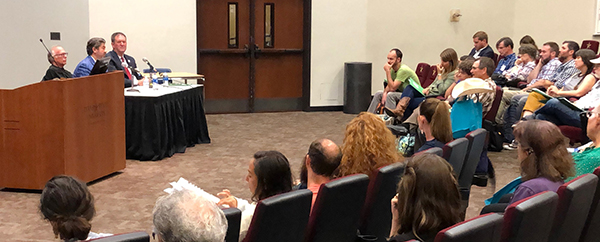 Presented by
Council for Healthy Food Systems
With the generous assistance of
---
Thank you to our Conference sponsors:
TRACK SPONSOR
---
RAINMAKER SPONSORS
---
SUSTAINING SPONSORS
---
HARVESTER SPONSORS
---
CULTIVATOR SPONSORS
---
SEEDSOWER SPONSOR
---
AGTIVIST SPONSORS
---
If you are interested in sponsoring the Farm & Food Leadership Conference, please download our 2022 Sponsorship-Exhibitor Packet.